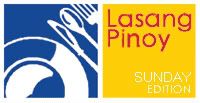 What could be more succulent than the rich juices we get to taste from fruits? Whenever I get to hear the word succulent, it makes me think about something that is juicy and refreshing. So for this week's Lasang Pinoy Sundays, I am posting a snapshot of fresh fruits that served as our dessert for our lunch during last May's office outing at Eden Nature Park.
The set above is a trio of pineapple, ripe mango and watermelon which I believed most Filipinos will agree, is a constant fixture in the buffet table. It can be eaten as it is or if you have a sweet tooth, you can add up a mixture of cream and condensed milk and voila you have an instant fruit salad. This is my entry for this week's theme of
Lasang Pinoy
. Feast on more succulent treats at their website.